When I do get round to film reviews, I thought it would be nice to be (legally) allowed to show some stills from the film with my review. I'm discovering that many of the big studios have dedicated PR sites that you can register and download preview content from.
Here's a shot from the latest 'Cars 2' movie: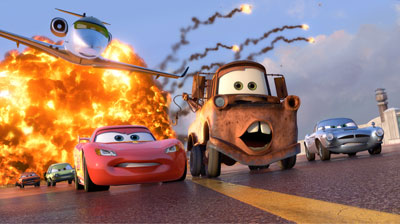 Grem (voice by Joe Mantegna), Acer (voice by Peter Jacobson), Siddeley (voice by Jason Isaacs), Lightning McQueen (voice by Owen Wilson), Mater (voice by Larry the Cable Guy), Finn McMissile (voice by Sir Michael Caine).
©Disney/Pixar. All Rights Reserved.